Fire Damage Restoration Services in The Woodlands, Texas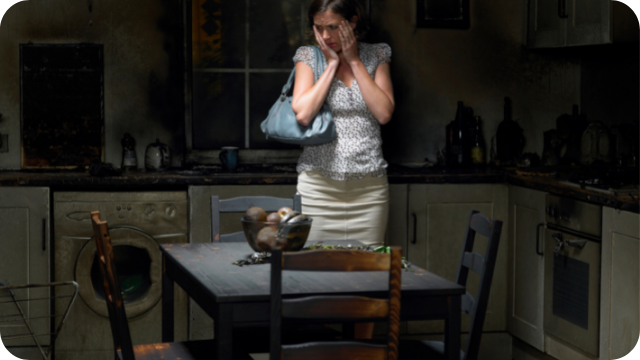 When fire damage occurs on your property, it is important to contact your local fire damage restoration professionals. With years of experience, United Water Restoration Group of The Woodlands possesses the knowledge of cleaning up any fire-damaged area. Fire damage can be devastating for your home and family, but the damage can be exacerbated by attempting to clean up the mess on your own. Smoke and fire can often lead to permanent damage in a building, including smoke and soot particles that find their way into surfaces or even porous materials.
Fire damage can also leave behind soot residue on your walls and ceilings. This black powdery substance forms when certain objects don't completely burn away during a fire. United Water Restoration Group's technicians know the right way to approach these situations. We can assist you in restoring your space back to pre-loss conditions.
As soon as we receive your call, we will send the appropriate personnel to investigate and assess the damage. Our team will explain create comprehensive a plan that outlines how we intend to restore your fire-damaged property. We can provide everything from cleaning and deodorizing, to assisting with structural repairs and rebuilding. When you are dealing with the aftermath of a house fire, it is easy to get overwhelmed. Hiring your locally sourced The Woodlands of Texas fire damage clean-up team to manage all aspects of your restoration will provide you with one less thing to worry about.
Contact The Woodlands, Texas #1 Fire Damage Restoration Team
To preserve your house after a fire, it is important to hire skilled fire restoration professionals as soon as possible. Contact your trusted United Water Restoration Group professionals at (281) 297-8500 for immediate service. Our fire damage technicians can handle everything from structural restoration to smoke and odor removal. We can assist in returning your property back to its pre-loss conditions so you can return to a state of normalcy. We understand how difficult it is to navigate these challenging times, so, we're here to help as much as we possibly can!
Read What Our Fire Restoration Customers Are Saying​
"Very friendly and completed work in a timely manner. Highly recommend. Would definitely use them again if we ever needed their service. Jaime was very professional and knowledgeable. He explained everything in great detail."
"We were extremely happy with United Restoration - Scott, Jamie and the rest of the team were very professional, hardworking, prompt, informative and did their jobs with integrity. We were so glad we chose them and would highly recommend them - they'll be the one and only company we call in the future."